Best Dog Car Crates of 2022
Support ThePetJourney.com. We may have included affiliate links in this article. Read more about how we make money.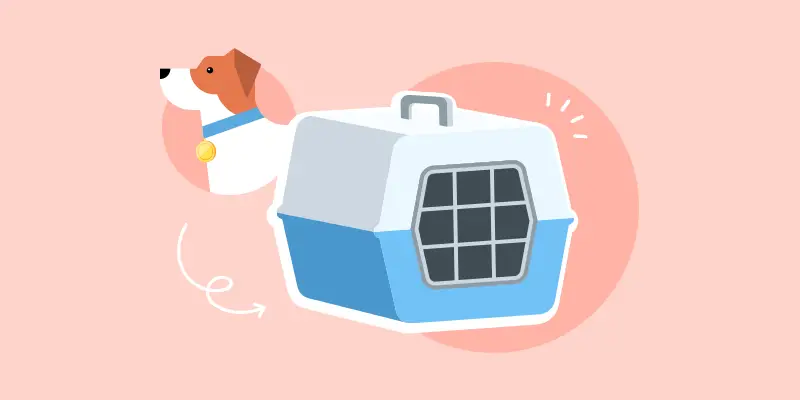 Best Dog Car Crates of 2022
If you're in the market for a new dog car crate then you're in the right place.
We've looked at all of the top-rated crates available in 2022 and shared reviews of our favourites here. Find out more about the best dog car crates below, depending on the needs of you and your dog.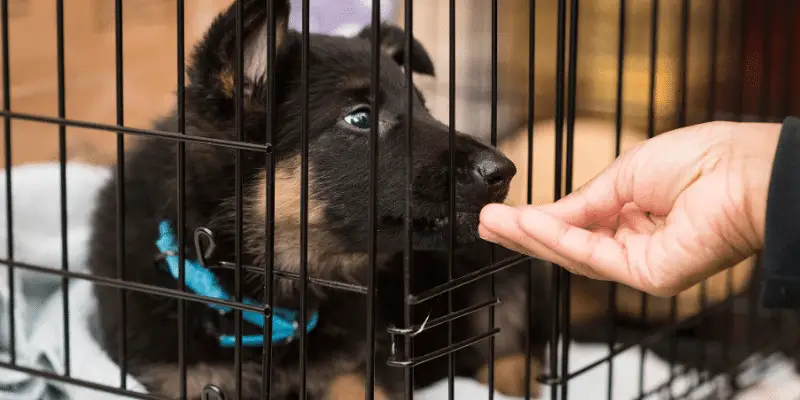 What is a Dog Car Crate?
A dog car crate, also known as a travel crate or portable kennel, is essentially a box that you can place your dog into for transport.
Many people choose to use a dog car crate because it helps to contain doggy mess, whether it be dog hair or drool. On top of that, it's also widely considered to be the safest way to travel with your pet, whether it be a short trip to the vet, or a longer car journey.
It is also possible to purchase a seat belt for your dog, but a crate is usually a safer and more comfortable option for them.
Best Overall Dog Car Crates
After researching, testing and reviewing tons of dog car crates, we've highlighted our top choices to help narrow down your search for the ideal car crate for your dog.
At thepetjourney.com we review products as honestly as possible, highlighting any weaknesses found, as well as why we like each one.
Gunner Kennel G1 Dog Car Crate
The first dog car crate I chose to feature here is made in America by Gunner Kennels.
This is one of the sturdiest and most durable dog car crates on the market at the moment. Featuring rotomolded double-walls, it provides twice the impact protection of a normal crate. Plus, it's been awarded five stars for safety, following rigorous crash-testing carried out by the Centre for Pet Safety.
It's not the cheapest crate on the market, but I think it does represent great value for money. It will be ideal for you, if you're looking for the best car crate on the market for safety.
It comes in four different sizes, making it suitable for almost any size dog. But you should be aware that the crate is pretty heavy and does increase as you go up in size. The medium (for example) weighs 38 pounds when empty, so you'll have to be very strong to be able to lift it, especially with your dog inside.
However, it will work great if you want a permanent crate solution in your car. The crate has integrated stainless-steel, tie-down pins that will ensure the crate stays put in the event of a collision.
It also features an escape-proof, reversible door system. This crate comes with a lifetime warranty.
Although the initial cost is higher than some other crates, its quality and durability means that this is a long-term investment.
Pros
Awarded five stars for safety from the CPS

Incredibly durable build

You can also buy accessories for this crate (for comfort etc)

Integrated tie-down pins
Cons
More expensive than some other doggy car crates

This crate is pretty heavy against some others
K&H Pet Products Travel Safety Carrier
The travel safety carrier from K&H is a different type of crate entirely.
It is a soft-sided crate that obviously won't provide anywhere near the same kind of impact protection than the Gunner model.
But having said that, it will still be great for keeping your pet restrained while you're driving and it looks much more inviting and comfortable than the first crate.
It has durable mesh sides, meaning it will be much lighter to carry and it also means your pet can still see all around them while on the move.
This travel system comes in three different sizes to suit a variety of dog breeds, but it may not be strong enough for larger or more boisterous dogs.
This carrier fixes securely into your car with two straps that feed around the headrest and into the car's seat belt system. It's nice being able to fix two straps to the seat, keeping the crate more securely in place. The last thing you want is for the crate to slip around while you're driving, or if you have to perform an emergency stop.
When it's not in use, you can fold the carrier flat which is also really great if you're low on storage.
Pros
Lightweight carrier

Mesh sides allow your dog to see out more easily

Budget-friendly

Comes with a comfortable base pad

Foldable design is great for storage
Cons
Doesn't provide the same level of protection as many other crates

Not as durable as many other crates
Sleepypod Mobile Pet Bed
The Sleepypod is primarily marketed as a pet bed, but it doubles as a car crate, so your dog feels completely at home when secured in your car. And this is definitely one of the most comfortable looking crates we've seen.
This versatility is great because you'll get so much use out of it. Your pooch can use it as a bed, and then you can use it as a carrier, as well as a car crate, to eliminate distraction while driving and increase the safety of your pet.
It has great aesthetics too, coming in a variety of colours such as blossom pink, chocolate brown, jet black and strawberry red. This is great if you are more style conscious and want a car crate that is almost as cute as your pup.
This crate is made of much tougher, luggage-grade material, with a netting cover at the top so your pup can peek out. This material will prove to be extremely durable for most dogs.
Although, if your dog views most things in life to be a chewable challenge, then this might not last too long.
On top of all this and perhaps what you wouldn't expect, is that it has also been crash-tested by the Centre for Pet Safety. The CPS determined that the Sleepypod performed exceptionally well in tests and that the bed provides great safety in the event of a collision.
Unfortunately, it only comes in mini (13" x 13" x 11") and medium (17" x 17" x 13") sizes, making it unsuitable for larger dogs. The medium is supposed to fit pets up to 15 pounds, but it doesn't look big enough if you ask me. You'll probably have to look elsewhere unless you have a very small breed of dog or a puppy.
Pros
One of the nicest looking crates we've seen

Secures easily to the seat with a standard seat belt

Doubles as a mobile pet bed

Performed exceptionally well in CPS crash tests
Cons
Only suitable for puppies and small breed dogs

More expensive than some crates
If you're looking for dog car crate for a larger breed dog;
If you're looking for dog car crate for a smaller breed dog;
If you're looking for dog car crate for a puppy;
If you're looking for softness and comfort in a dog car crate;
Best sloping dog car crate
If you're looking for dog crate that slopes for your car boot;
Best double dog car crate
If you're looking for dog crate that is designed to fit two dogs;
How does a pet car crate work?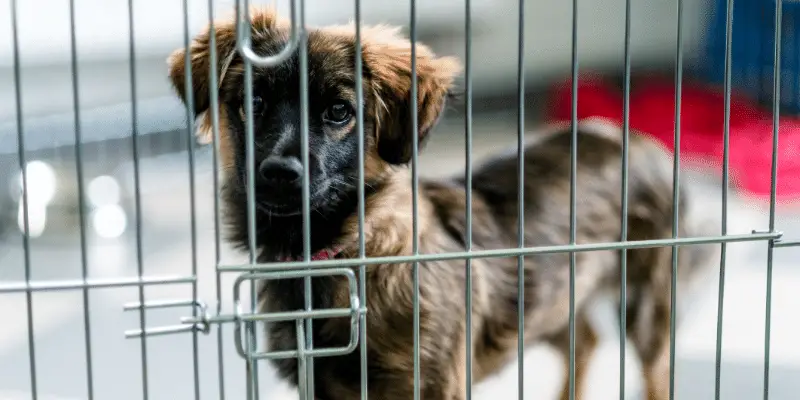 The concept of a pet car crate is pretty simple in the fact that it will keep your pet contained while you transport them from your home to another destination.
All you need to do is load your dog into the crate, latch the door, strap the crate in and away you go. Having a dog moving about in the back (or front) of the car can be distracting to the driver, presenting a higher risk of accident.
Plus, there's the issue of comfort. For smaller breeds, for example, a seat belt may exert too much pressure for them to be able to sit comfortably while wearing it. In this case a crate will be a much better choice.
On top of this, if you have a very active dog or puppy that won't stay seated, then a carrier or crate may also be the only option.
A travel crate can also help keep your beloved pooch much safer in the event of an accident (more on this below).
What else to look for in a good dog car crate
Besides keeping your dog contained and comfortable on your journey, you should also consider the safety, size, materials, and durability of a dog car crate, before making your final purchase.
Below we've explained the importance of each factor, so that you can choose the best dog car crate based on your needs and breed.
Safety
As mentioned previously, one of the main reasons to purchase a car crate is for the safety of everyone travelling in your car with you and your dog.
At the very least, a dog car crate will mean that your dog is less of a distraction to the driver. When strapped into your car, a crate will also prevent your pooch from becoming a projectile, should you get into an accident.
This is especially important with larger breeds, that are at a greater risk of serious injury in the unfortunate event of an accident. The weight of a large dog will mean that they experience much more force on impact than a small dog would, making a crate or carrier a safer option when in the car.
When positioning your dog crate in the car, you should be aware of where your car's crumple zones are, avoiding those at all cost. Plus, you shouldn't place a dog crate on the front passenger seat as the airbag could cause injury as they're designed for adult humans.
Distraction Preventions vs Crash-Proof Power
You'll also come across car seats that have been crash-tested, which provide the ultimate safety for your dog and passengers, while on car journeys.
Unfortunately, the vast majority of budget-friendly dog car crates would fail a crash-test. But they're still worth investing in for the purpose of distraction prevention.
However, if your budget allows, then a (more expensive) crash-tested crate will provide the best protection for your dog in the event of a crash.
Size
The best dog car crate for you and your dog will be one that is big enough for your dog to stand up in. Your dog should also be able to lie down and turn around in the crate.
However, a dog car crate should never be more than six inches longer or taller than your dog.
The more space inside the crate, the more momentum and force they'll be exposed to on impact. It's actually the snugness of the crate which helps keep them safe.
Material
Dog car crates are made from a variety of materials. In your search for the best dog car crates, you'll probably see options made from wire mesh, solid plastic, stainless steel, as well as soft fabric.
If you have a dog that likes to chew everything in sight then you should definitely consider this when it comes to choosing the material your dog crate is made of. The most munch-resistant crates will be made of stainless steel and wire mesh.
However, if you're looking at buying a wire mesh crate then just make sure that it doesn't have any rough or sharp edges that your dog could hurt themselves on.
The materials the crate is made from will also affect the safety and durability of the car crate, so you should factor this in when choosing.
Durability
If your dog is a small breed with a relatively calm disposition, then a soft fabric crate may work great for your needs. But if you have a larger or more boisterous dog, then you should probably opt for a hardier material and more durable build.
It might be wiser to spend a bit more up-front on your first car crate purchase, so that you don't have to replace it so often, if ever.
Are car crates safe for dogs?
Your dog may prefer to have his head hanging out of the window for the entire car journey, but for safety reasons, you should keep them comfortably and safely restrained in your car at all times.
Car crates are one of the safest ways to do this, but as mentioned previously they shouldn't be more than six inches longer or taller than your dog.
While buying a larger crate for your pup will allow growing room for them, it's not the safest option for traveling.
Crash-tested car crates
If you're interested in a crash-tested car crate, then you just need to make sure that it was tested properly.
Shockingly, dog car crates aren't subject to the same government safety standards and regulations that human car products are. Even though the presence of a car crate could potentially affect the safety of other passengers in the car.
Many manufacturers claim that their crates are crash-tested, but due to the lack of regulation, it can be carried out in-house and might not be as rigorous as it should be.
For this reason, when purchasing a "crash-tested" crate, you should only consider crates that have passed the Centre for Pet Safety (CPS) crash tests or one that meet European crash test standards.

That way you know the crate is top-notch when it comes to safety and quality.
Benefits vs limitations of dog car crates
Still wondering if a dog car crate is worth the investment?
Here's a quick look at the main benefits and limitations of dog car crates, to help you make your decision.
Benefits
Allows for easier transportation of your pet
Less mess in your car
Less distracting for the driver
Can prevent your pooch from turning into a projectile in the event of a crash
More comfortable for many pups and dogs
Some crates can also withstand car crashes

Limitations
You may need to add blankets for comfort
Fabric crates can be more difficult to clean
Some dogs don't enjoy being crated
Not all crates are chew-proof
How much does a dog car crate cost?
As with most things in life, the cost of a dog car crate can vary hugely. Expect to pay anywhere between £50 and £100 for a more budget-friendly crate and between £200 and £600 for a crash-tested crate.
The size of the crate will also impact the cost with larger crates costing more.