Support ThePetJourney.com. We may have included affiliate links in this article. Read more about how we make money.
Best Dog Puzzle Toys for 2021
Dogs are intelligent, curious animals and in order to stay healthy and happy, they need to exercise their minds as well as their bodies, just like you and I do.
Puzzle toys for dogs are just one way that you can help keep your dog occupied, entertained, and mentally stimulated, sometimes for long periods of time. Stick with us as we review some of the best dog puzzle toys in 2021.
All of our top picks featured here can be used to help entertain your pet while you're away from home.
You can also find some great boardgame-style toys for dogs with varying levels of difficulty. They are fantastic for mental stimulation, but many have moving parts that can be broken off and swallowed. Therefore these types of games shouldn't be played without your direct supervision.
I will try to update this page in the future to include some more challenging toys for dogs like this. If you have any favourites that you think deserve to be featured, let us know on the thepetjourney facebook.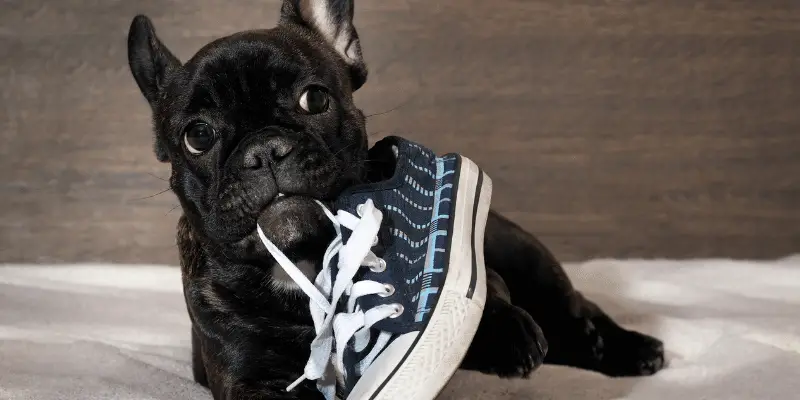 1. Kong Stuff-A-Ball Puzzle Toy – Best Overall
Difficulty – 2/5
Safety – 5/5
Versatility – 4/5
Motivation – 5/5
Durability – 4/5
Kong has a large variety of great treat-based puzzle toys for dogs, but one of my favourites is the classic Stuff-A-Ball toy.
I chose this one specifically as it features patented "Denta-Ridges" which are strategically placed to help clean my dog's teeth and gums while they play with it. It is more expensive than the original Kong puzzle toy, but I think the extra benefit outweighs the cost.
In my experience, Kong toys are more durable than other, similar toys on the market. This one isn't recommended for aggressive chewers (Kong has other toys for you!), but for my "average" chewing dog it's definitely proven to be highly durable and long-lasting.
In fact, my dog still has his original Kong toy from years ago too. It shows signs of wear but he still plays with it, even though I don't ever stuff it anymore (because now I have the Stuff-A-Ball!).
It comes in three different sizes to suit your dog breed and you can load the centre of it with treats or kibble, as well as apply peanut butter to the ridges on the outside. As mentioned previously, you can leave your dog unattended at home with this toy and let them play with it by themselves as it's completely non-toxic.
Plus, it's really easy to clean, as all Kong rubber toys are top-rack, dishwasher-safe.

Pros
Fun for all dog sizes
Cleans their teeth while they play
Highly durable
Doubles as a fetch ball and general chew toy
Easy to clean
Cons
Not suitable for more aggressive chewers
Not as challenging as some puzzle toys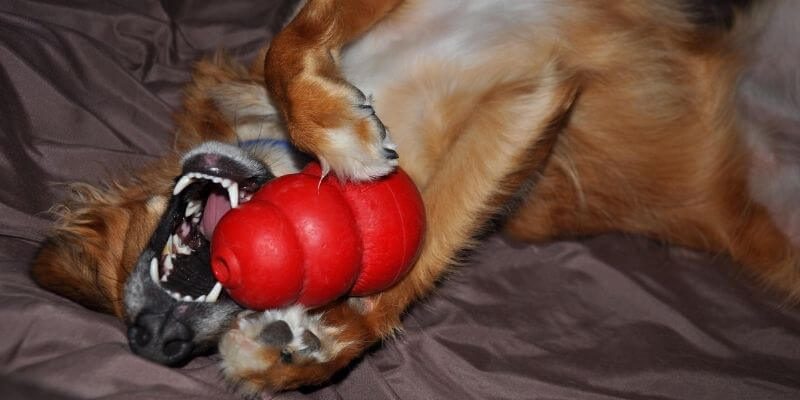 2. iFetch Too Interactive Ball Launcher – Best Non-Treat-Based Toy
Difficulty – 4/5
Safety – 3/5 (danger of untrained dog running out in front of the ball)
Versatility – 3/5
Motivation – 5/5
Durability – 3/5
Most puzzle and activity toys use treats as an incentive to play the game, but there are some really great non-treat-based toys out there too and this iFetch Ball Launcher is one of them. The iFetch is the best interactive ball launcher on the market for several reasons.
This iFetch Too has gone through some major updates since its first incarnation. One of which is the fact that it can now launch a ball up to 40 feet, which is farther than any of the competitors. This makes it really great for larger and more active dogs, although you do need a fairly large garden to be able to use this setting at home.
It's also the only ball launcher to contain a rechargeable battery, which is really convenient. It means you don't have to worry about spending a small fortune on batteries or have to run an extension lead out to the garden every time you want to use it outside.
The game is reliant on your dog learning how to load the ball launcher themselves, but once they get the hang of it your fetch-a-holic will be entertained for as long as the rechargeable battery lasts.
iFetch estimates this to be somewhere in the regions of 300 launches. All I know is that my dog will play with this for roughly two hours every single day if I let him.
This smart toy has three different settings to throw the ball 10, 25, or 40 feet, so it's great for all different size dogs and gardens, and you can even have it in your house. I usually have my iFetch in the garden and have it on the random setting to keep my dog guessing.
It works with any standard tennis ball, but if your dog is particularly slobbery then you'll probably find that the slobber slows the ball down. However, iFetch has developed a slobber-proof "Foaber" ball that you can use with the iFetch Too to prevent this from happening.
Pros
Doesn't rely on treats
One charge lasts for ages
Exercises your dog's brain and body at the same time
Four distance settings
Cons
You need to remember to charge it ahead of time
Has to be cleaned by hand
Can't be enjoyed from within a crate
Not within everyone's budget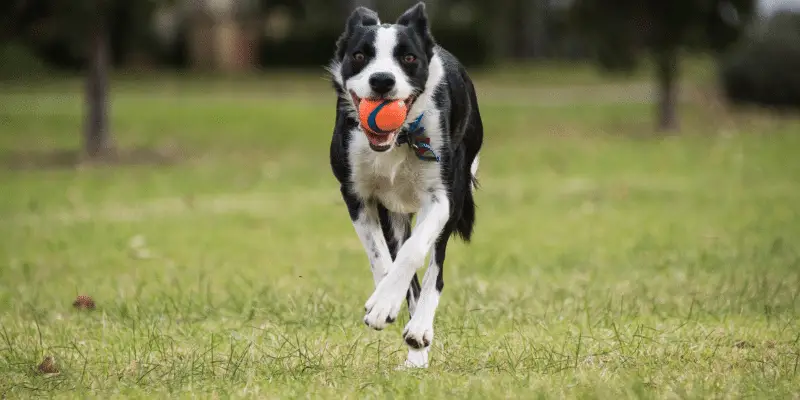 3. Britimes Dog Snuffle Mat – Best for Mealtimes
Difficulty – 2/5
Safety – 5/5
Versatility – 2/5
Motivation – 5/5
Durability – 2/5
There are a lot of dog snuffle mats out there, but this mat from Britimes has two innovative and thoughtful features that we think puts it ahead of the rest.
Firstly, it has two rubber suction cups on each side which, combined with the non-slip base, helps to keep the mat still while your dog snuffles for treasures.
Secondly, it features an edge guard that runs around the entire mat that helps keep the treats on the mat. This helps to keep your floor clean and prevents wayward treats from ending up underneath your furniture or cupboards.
On top of this, it's really good quality against others we've seen. It has long, thick hair that helps you hide the treats better and it's well-made. But as with all snuffle mats, it's not going to last long if you and your pup are struggling with destructive behaviour.
I also like the simple grey colour of this mat as I have it in my kitchen and some of the other mats out there are really garish in colour. I try to wash it more often than (the recommended) twice a week, because I use it for most mealtimes these days, but it's machine-washable so it's really easy to keep clean.
Pros
Doesn't slip around like other snuffle mats
Keeps the treats on the mat
Simple colour ties in with most home decor
Machine washable
Cons
Relies on treats as a reward
Can only be used with dry food
Not very durable
How Can Interactive Toys Help Solve Dog Boredom?
If your dog is ever left at home alone, while you're at work or running errands around town, there's a high possibility that they're experiencing boredom. Or you may just have a particularly hyper pup on your hands that craves attention all the time.
It's not as if they can sit down and read a good book to pass the time, is it? Or take themselves out for a nice walk for that matter…
What they can do is cause all sorts of mischief, inside and outside of their crate.
And this is where puzzle toys come in. You can keep your pooch occupied and entertained for long periods of time with a challenging toy, meaning they're less likely to feel bored. The mental stimulation will provide stress and anxiety relief and there are many other benefits too.
Dog puzzle toys will:
Occupy their time and alleviate boredom
Provide mental stimulation
Enhance their ability to learn
Help them relax and ease anxiety
Make them feel happy
Slow down eating and help control weight
Help you form a stronger bond
Help prevent dementia in senior dogs
The question isn't "do I need puzzle toys for my dog?", but rather, "which puzzle toys should I invest in?". So let's jump straight into our top picks so you can see what some of your options are.
Best Puzzle / Interactive Toy for Puppies
Kong Puppy Puzzle Toy
It's available in a variety of sizes to suit the size of your puppy and is made of softer natural rubber that is more gentle on your growing puppy's teeth and gums.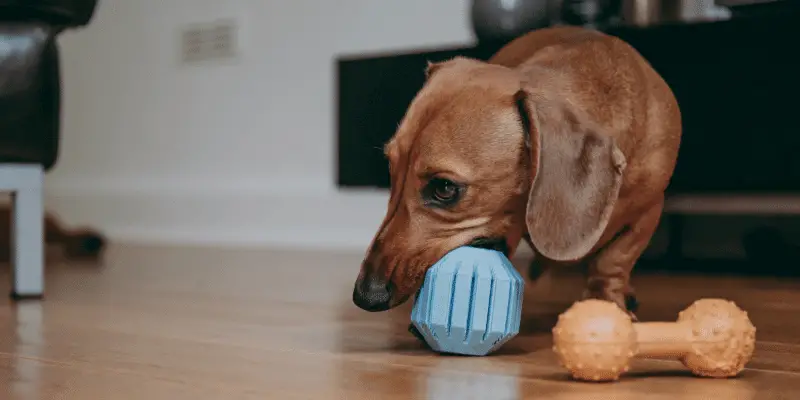 Best Puzzle / Interactive Toy for Large Dogs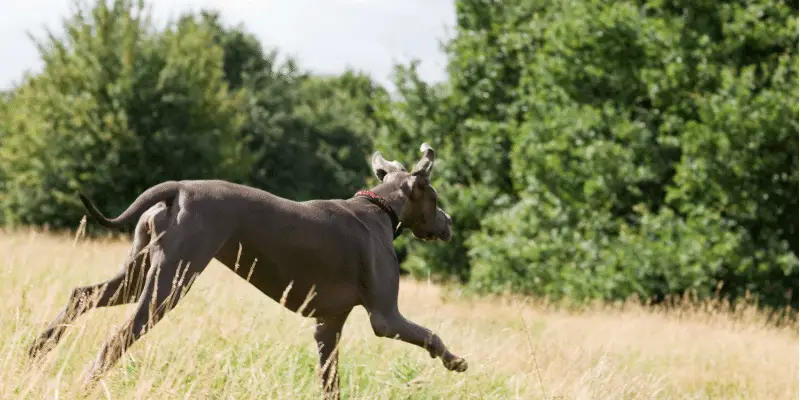 How Do Dog Puzzle Toys Work?
More often than not, interactive toys usually work on a treat-based system that encourages your dog to engage his brain and think in order to be fed
Treat-Based Puzzle Toys for Dogs
Once upon a time, dogs were used to working for their food and these types of toys encourage their natural instincts for foraging and scavenging.
Simple Puzzle Toys
The most simple entertaining dog toys will hold food or treats inside and your dog has to figure out how to get at them by rolling or knocking the treats out or by licking food from a small opening.
I like to load mine up with wet foodstuffs (like wet dog food, meat stock, or yoghurt and bananas) and then freeze it. This way it keeps my dog occupied for even longer.
However, you should be aware that there is one big drawback to these toys… They can be very messy!
Board Game-Style Toys
More challenging board game-style dog toys require your pooch to press buttons, slide levers or remove plugs in order to get at the treats hidden inside. They're great for bonding as your dog will learn by watching you complete the puzzle first, and then has to remember how to do it by themselves.
These games are available in varying levels of difficulty too so you can really challenge smarter dogs and they can also be really useful for dog training.
Puzzle Feeding Mats
Puzzle feeding mats, like this one, are used at mealtimes to make eating more of a challenge. Different sections of the mat may feature different textures, some that will hold kibble and others that work better for wet food and spreadable treats.


Your dog needs to approach each section in a slightly different manner in order to enjoy the food contained within it. It engages your dog's brain while slowing down their eating habits, making mealtimes more stimulating and keeping them busy for longer.
Snuffle Mats
Plus you also have snuffle mats, like the one featured above, that are also great for making mealtimes last much longer.
I'm a big fan of these snuffle mats because sniffing helps release happy hormones (dopamine) in your dog's brain. Therefore sniffing is a form of self-soothing and can help to relax your dog, so they're great for helping to alleviate anxiety and stress.
However, a snuffle mat is not going to work with a wet food diet (obviously!) and it also isn't as durable as the plastic feeding mats.
Non-Treat-Based Puzzle Toys
There is also a slightly smaller selection of activity toys for dogs that don't rely on treats as rewards.
Any type of play that your pup finds entertaining will help stimulate their brain, thereby helping to stave off or alleviate boredom
Ball Launchers
If your dog's a ball guy, then automatic ball launchers will keep your dog thoroughly entertained for hours.
These intelligent puzzle toys require your dog to feed a single ball back into the machine before it will be launched again.
This genius one-ball-at-a-time detail encourages your dog to play fetch by themselves and it challenges your dog's brain and their stamina at the same time.
This is a particularly great activity toy for you if you're not able to keep up with the physical demands of your dog, whether you work full-time or have an injury that prevents you from walking them as much as they need.
Hide-And-Seek Toys
However, not everyone can afford the luxury of shelling out more than a hundred pounds on a dog toy. And some dogs just aren't into balls or fetch.
So, a good alternative for a non-treat-based toy is a hide-and-seek style toy, like this one. This is an entertaining toy for dogs that uses squeaky toys as incentives instead of treats.
Your dog will have lots of fun trying to find all of the different squeakers hidden inside the (in this case) tree trunk. If they get a bit carried away and chew through the squirrels then it's easy enough to replace the toys, but it won't last more than two seconds with some dogs that see everything in life as a chewy challenge.
What to Look for In a Good Dog Puzzle Toy?
So, you've decided that you want to invest in a puzzle toy for your dog, but how do you know which one will provide the best challenge and stimulation for your dog?
For starters, as with any toy, you should look for one that best suits your dog's size, weight, and temperament. For example, if your dog is high energy, has a short attention span, you might need a simpler toy to keep them interested.

Difficulty
Different puzzle toys have varying levels of difficulty. If your dog is just starting out then you should start him with something easy (like the Kong Stuff-A-Ball) and then slowly work your way up to more difficult puzzles if you feel he's up to it.
If you go for something too complicated and are unable to train him to complete it, then it's just going to be a frustrating experience for both of you.

Safety
The overall safety of the toy should also be considered. Some toys need constant supervision and are better for bonding and training. Others can be left unsupervised at home, or in a crate, to keep your pooch busy while you're away.

Versatility
The versatility of a toy is important as it increases its value. A simple puzzle toy may double as a ball to play fetch with, as well as a ball to drool and chew on.
Some board game-style games also offer multiple ways to play and/or different difficulty settings, so that your dog meets a new challenge every time he plays.

Motivation
All good puzzle toys for dogs will have some source of motivation for your dog to complete it. Whether it be a treat or a squeaky toy, make sure that the toy offers some sort of reward for completion or offer them a reward yourself.

Durability
No interactive dog toy is ever going to be 100% indestructible, but some toys are built much more durably than others.
Consider the materials used to build the toy, as well as how well made it is, to decide how long you'll think it'll last you and your pooch. That way you can decide whether it offers good value for money.

If you have a lovable but chewable dog, then you should avoid puzzle toys that have moving and/or small parts and choose toys that are more difficult to destroy.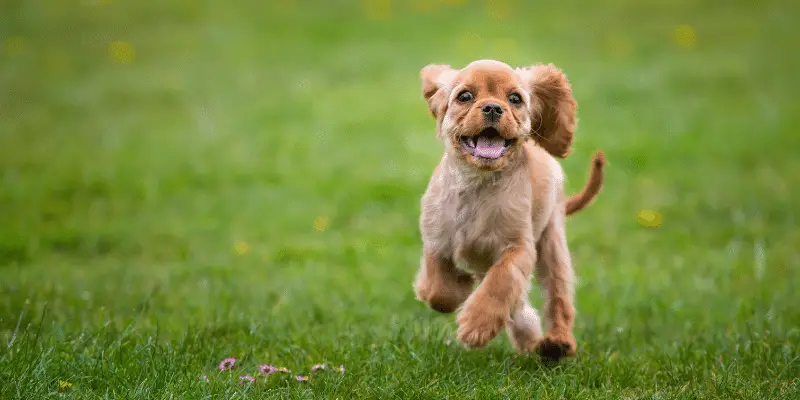 What Are the Signs Your Dog Could be Bored?
If your dog is bored then the boredom is likely to manifest itself in one or more ways, which include a number of common behavioural problems.
Some of these "problems", like causing mischief and chewing, are simply your dog's way of improvising their own fun. But nuisance barking and excessive licking can also be a sign of emotional distress about being left alone, or that boredom is causing anxiety.
If you have concerns over his or her behaviour then you should talk them over with your vet, a dog trainer, or animal behaviourist.
General Mischief
If you're arriving home at the end of the day to find your house is in a mess, then this is a classic sign of boredom. Your dog basically just turned your house into a theme park for the day.
Maybe he dug all of the plants out of their pots, knocked a side table over, rooted through the rubbish, or unleashed an entire roll of toilet paper around the house.
Let's be honest, any one of these activities is more fun than just sitting around all day waiting for you to return home.
Destructive Chewing
We all know that dogs like chewing, that's we spend so much money on chewy toys for them. But if your dog is bored at home then he's probably going to get curious about chewing all manner of things (the sofa, your favourite rug, even the wall).
Nuisance Barking
Whether your dog is yapping out of the window all day at passers-by, or your pup is in the garden barking at his own shadow, nuisance barking isn't great for neighbourly relations.
Boredom could be the cause of this incessant barking and occupying your dog with a puzzle toy could offer you and your neighbours some respite.
Excessive Licking
If your dog is licking themselves, objects around them, or you, excessively, this could be a sign of boredom, anxiety, or pain.
Obsessive self-licking should be brought to your vet's attention, but when all health problems have been ruled out then you need to consider whether this behaviour is stemming from boredom. You can easily attempt to remedy it by offering them more mental stimulation.
Other Signs Your Dog is Bored
This list could go on and on… Digging, over-excited greetings, running away, pacing, excessive scratching… The fact is, if you think your dog is getting bored then they probably are.
Introducing interactive toys is one of the easiest ways you can increase the amount of mental stimulation they get. Playing with them more, training them, socialising them, and taking them on more walks will also be hugely beneficial to their mental health.
Yes, Kong is one of my favourite puzzle toy brands. When you introduce a Kong activity toy, your dog will need to work out how to knock the treats out of it. A kong will keep your dog occupied for a certain length of time, as well as make him think, feel excited, and rewarded for his efforts.
Yes, in order to raise a healthy, confident, and happy pup, it's vital for them to receive mental stimulation, as well as physical exercise. It's also important to train your puppy so that they respond to basic commands. 
Training a puppy to respond to basic commands or do tricks is an excellent form of stimulation. Socialising, toys, playtime, and walks are also great stimulation for them.
Yes, absolutely. Otherwise, your dog will go out of his mind with boredom. Just make sure the toys are non-toxic and safe for your dog.