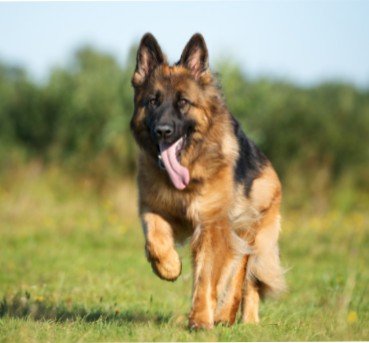 German Shepherd Breed Profile
Loyal working dogs that have become a popular family pet across the globe.
German Shepherd Retriever Profile
What's the German Shepherd's history and background?

German Shepherds are one of the most instantly recognisable and most loved dog breeds in the UK. As the name suggests, the GSD (German Shepherd Dog) was first established in Germany during the late 1800's by an ex-cavalry captain Max von Stephanitz. Until Max came along, German Shepherds and variant breeds were primarily used for herding sheep on farmland, however as the industrial revolution spread across Europe the needs and expectations of the population changed with it. With German urbanisation and industrialisation came fewer predators to the sheep, but von Stephanitz was eager to further develop the desirable traits he saw in GSDs and find a new purpose for them. During this time the Phylax Society (Phylax meaning Guardsmen in Greek) was set up to aid standardisation of native dog breeds across Germany and help reintroduce them into the German workforce, which is when GSDs became popular for use within the military and police forces.
Differences in approach led to the disbandment of the society, one side focusing on appearance, the other on working traits. This led Max von Stephanitz to focus on what his own ideals of what a German Shepherd dog should be, and while at a dog show in 1899 he found such a dog, called Hektor Linksrhein. Hektor was the outcome of many years of selective breeding, a fierce working dog, extremely loyal and with an immaculate coat, exactly what Max had been in search for, and so von Stephanitz adopted Hektor and renamed him Horand van Grarfath in process. Horand became the first official German Shepherd Dog, and is the ancestor of the breed we know and love today.
The breed became synonymous with German military and law enforcement during the first half of the 19th century, and thus was strongly associated with Nazism and purity. Breeders looking to introduce them into North America and the UK realised that this could hamper efforts to establish the dog in the regions, and they therefore coined the term "Alsatian" or "Alsatian Wolf Dog". This name was derived from the French region of Alsace which borders Germany and is an associate name of the GSD that stuck around for over half a century before becoming officially retired in 2010.
What size and appearance do German Shepherd's have?

German Shepherds are a large to medium sized dogs with muscular frames, long snouts and well shaped heads. Their powerful shoulders and hind legs, long tails, and quick wit makes them exceptional work dogs who love to keep busy. Their durable and resilient coat can be either long or short and comes in a blend of black as the predominant colour with a mix of red and tan. Rare variations include white, back and silver and liver. 
What's the German Shepherd's Behaviour & Personality like?
German Shepherds are loyal and alert dogs that are extremely intelligent, hence their worldwide use as police and military dogs.

Territorial dogs so be aware of this when you have visitors, however this is a key reason why they are such sought after guard dogs.
Is the German Shepherd suitable for first time pet owners?
German Shepherds

can display alpha male behaviour when not trained correctly which may lead to other undesirable behavioural issues. Not recommended for unprepared first time dog owners. 
Is the German Shepherd a good family dog?
German Shepherds love space, so they're ideal for families with large back yards and plenty of space to explore and express themselves. 
How to groom a German Shepherd
GSDs do shed more than most breeds due to their thick double coat. 
Aim to brush your German Shepherd's coat at least once or twice a week, this may increase in frequency if you have a long haired GSD.
GSDs do not need frequent bathing, as their skin is particularly sensitive, over-bathing can cause pH imbalances and result in skin irritation.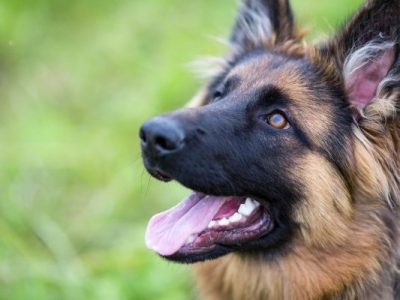 How much exercise does a German Shepherd need?
German Shepherds were bred as worker dogs, meaning they have extremely high energy levels. Ensure you exercise your GSD for at least 2 hours daily.
As they're extremely intelligent dogs they exceed at canine sports, so be sure to incorporate this into their daily exercise and let them off the lead for at least an hour a day to explore and express themselves. 
How much training does a German Shepherd need?
Being such a smart breed, German Shepherd are extremely trainable with the ability to learn many commands and instructions. Training should start young to avoid any unwanted behavioural issues as this strong willed dog breed can have alpha male tendencies. 

Training should be done with a firm hand, but GSDs can be sensitive to heavy handed treatment so let the dog know its place in pack without using aggressive tactics. 
What's the average lifespan of a German Shepherd?
The average lifespan of a German Shepherd is 9-13 years.
What are common health issues for a German Shepherd?
Although German Shepherds boast strong and athletic bodies, there are unfortunately a few health issues to look out for.
Hip dysplasia is the most common issue, caused by an abnormal formation in the hip, leading to a loss of cartilage and pain. This can be screened for with a BVA test.
GSDs can also suffer from elbow dysplasia where the elbow joint does not form properly, however again this can be tested for. 
As with many athletic breeds, German Shepherds are susceptible osteoarthritis and other muscular-skeletal issues so its important that you get your dog from a well established breeder, and screen your dog before selecting it for breeding. 
GSDs can also sometimes be inclined to suffer from haemophilia A and B, a disease that prevents the blood from clotting in wounds and causing them to bleed more than is expected. This trait only affects male German Shepherd dogs.